Supervisory Control and Data Acquisition (SCADA) systems are used to provide a common method for controlling remote sites and for gathering data from remote site sensors. Users such as the Oil & Gas industry, Electric & Water utilities, Wastewater and Environmental sites use SCADA systems to monitor, alarm and control these facilities and associated equipment. Various sensors and controls consist of switches, relays or other analog signal elements that are not suitable for direct remote connection from a master control center. SCADA systems usually solve this issue by using a remote terminal unit (RTU) that combines the various analog signal elements into a common communications protocol that can access a controlling or central management site. Central Site host computers & equipment may combine the SCADA signals from various remote sites into a centrally managed system. Communications technologies ranging from telephone leased & dial up lines, fiber, radio along with newer data lines & services such as ADSL or T1 & E1 may be used to transport SCADA signals.
The Telephone Leased Line Problem...
SCADA applications & other serial data networks may use serial protocols such as DNP3 , IEC 60870-5-101/103/104 , MODBUS , CDC , S/NET , CONITEL , ABB that can be transported via modems such as Bell 202 or V. type modems over leased or dial telephone lines for communications between the central site and remote facilities used by various Oil & Gas, Electric / Water utilities. Escalating costs from leased & dial line service providers along with limited leased line availability create access problems for such utility and services users. Recurring monthly costs along with limitations with legacy modem equipment, may limit the expansion and capability of services that can be supported. Single leased line extensions offer a single point of outage for sites that may incur extensive delays for service restoration. The requirement exists to migrate to newer technologies such as INTERNET protocol (IP) based data and wireless networks that are now widely available offering potential expanded services, lower recuring costs, alternative remote site access and compliance with new regulatory standards such as NERC CIP requirements.
Teleprime ACD SCADA VPN Data Router based solutions...
Replacement of leased line access to remote site RTU SCADA terminals is now possible with Teleprime's line of Bandit Secure VPN IP based SCADA supported routers. A scalable selection of products from the Bandit Basic to the VSR-1200 Central VPN Router & IP switch is offered for utility & service based customers to migrate to alternative communications transport methods.
Bandit II™ Commercial & Industrial Temperature Hardened Versions - Expanding the Bandit Basic capabilities, the BANDIT II™ is ideally suited for lottery, banking (ATM), electric, gas, oil and water utilities, industrial plant floors; mobile transportation; and traffic control system applications. The BANDIT II™ ensures security of system data and SCADA network connections that are directly connected to the Internet, or other Wide Area Network (WAN) and/or Local Area Network (LAN) networks, or commercial wireless cellular data IP services. With its seamless host site diversification failover feature, the BANDIT II™ is ideal for Disaster Recovery and Application Load Sharing to multiple host sites. Protocol support for DNP3 , IEC 60870-5-101 /103 /104 , MODBUS , CDC , S/NET , CONITEL , ABB , and most electrical industry proprietary utility and SCADA protocols can be provided with BANDIT II™.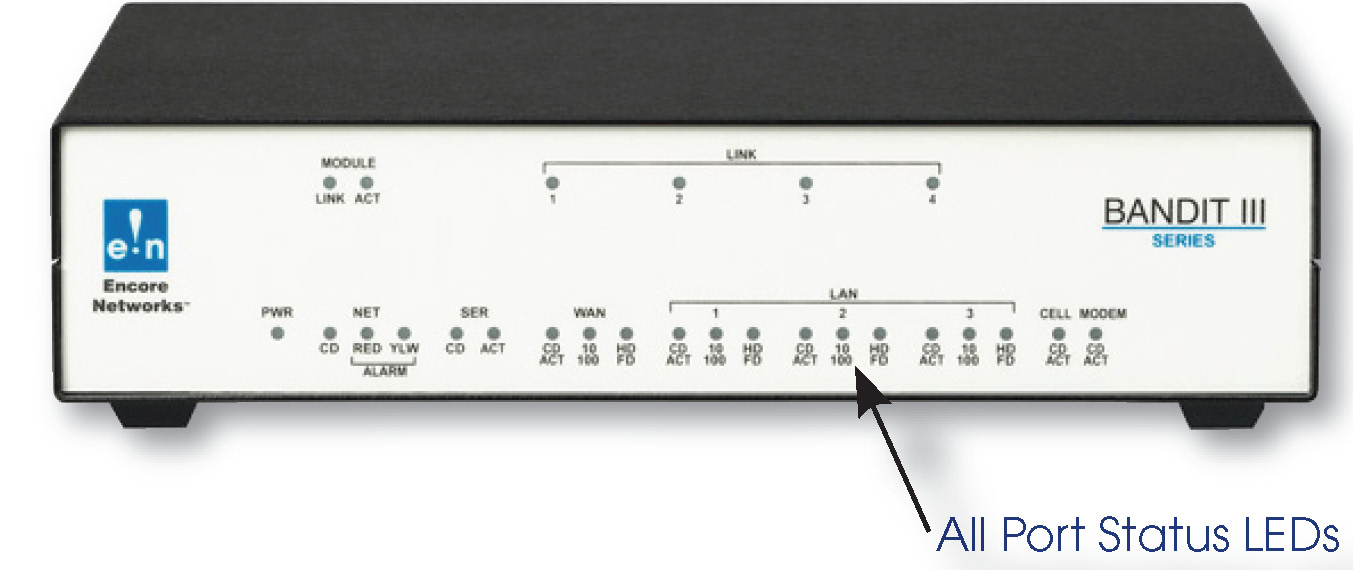 BANDIT III™ Commercial & Industrial Temperature Hardened Versions - In addition to BANDIT II™ capabilities, including protocol support for DNP3 , IEC 60870-5-101 /103 /104 , MODBUS , CDC , S/NET , CONITEL , ABB , and most other electric & utility industry proprietary SCADA type protocols, the BANDIT III™ supports up to five serial ports, contains an integrated four port fully managed Ethernet switch, can be ordered with various AC or DC power supply and redundancy options, and includes an integrated V.92 modem. In addition, the BANDIT III™ supports two high density expansion slots supporting optional digital connectivity modules such as 56K / 64K CSU/DSU or T1 / E1 CSU / DSUs , allowing for connectivity to public or private IP and other WAN Frame Relay services or cellular connectivity modules may be ordered allowing connectivity to public carrier secure cellular data services. Supported cellular interfaces include CDMA 1X / EVDO Rev A and GSM GPRS / EDGE / UMTS / HSDPA / HSPA .
VSR-1200 High Capacity VPN Gateway Router & IP Switch - The VSR-1200 High Capacity VPN Gateway Router is a fully integrated high capacity secure VPN data gateway that has been optimized to support high-performance security and VPN solutions over terrestrial, satellite and hybrid broadband networks. The VSR-1200 can meet the requirements of network scalability and application security for carriers and large-enterprise or industrial utility type customers. The VSR-1200 works across multi-vendor satellite and terrestrial networks and solves the issues of performance degradation associated with running open-standards-based IPSec over TCP-accelerated satellite connections. Convergence of legacy data applications to broadband IP networks is feasible with the VSR-1200 via the use of the optional high-density serial module Remote Data Unit (RDU). Each RDU supports up to 12 serial ports and up to 240 remote locations or terminals. A smooth migration strategy solution for both remote terminals and legacy hosts is supported via spoofing and conversion of legacy protocols such as SDLC, bisync, X.25, polled async, ALC, CDLC, and X.42.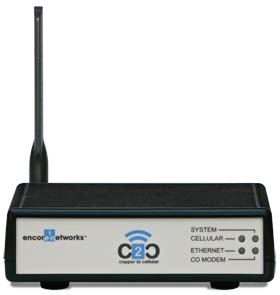 Economical C2C Secure VPN Router - The C2C SecureVPN Router is a purpose-built VPN router designed specifically to deliver high performance, channel efficient VPN solutions over cellular based data served networks (2G, 3G, 4G LTE). Installed like any common terrestrial VPN router, the C2C provides end-to-end VPN solutions and includes standard features such as IP routing, advanced QoS settings, a stateful packet inspection firewall, embedded address management capabilities such as NAT and PrAT, in addition to VPN flavors such as IPsec, GRE and SLE. All functionality can be managed remotely via secure and intuitive terminal access. The C2C is an extremely affordable solution for operators and system integrators offering managed IP VPN solutions that need to migrate from landline to mobile services.